0 comments
こんにちは〜\(◕ω◕)/♥
JLPTN5, N4, N3 のテストを少しやってみませんか?
Let's challenge (*・_・*)ゞ!

N5 video! ⬇️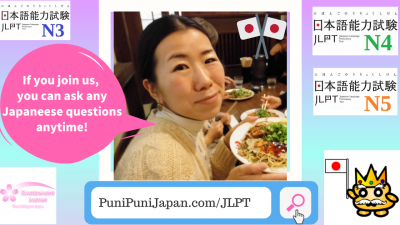 *Information about our JLPT study group*
We are happy to announce that over 70 students have signed up for our JLPT N5~N3 courses before and we heard many of our students passed JLPT tests and achieve their goals!
\(>ω<)/♥\(>ω<)/
Maybe some of you couldn't achieve the goals or forgot to take JLPT tests but
we are still here for you to help!
If you join our group, you can watch all of our JLPT N5 ~N3 videos and get our handouts/ homework PDF etc..!
In addition, you can ask any Japanese questions to Kumi Matsuda sensei anytime! 
We will have the LIVE-lessons again!
Q: Who is the teacher?
A: One of our experienced professional Japanese teachers will be teaching the course. Her name is Kumi Matsuda. You can call her Matsuda Sensei!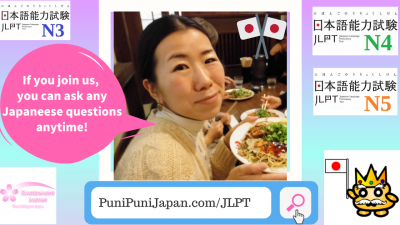 Q: How much does the course cost?
A: ONLY $15/ per month! You can check all the videos from N5~N3! Plus you can have homework and pdf handouts. You can pay for the course by clicking the button below:
Q: Can I ask questions anytime? Do you also have LIVE-lesson? 
A: Yes, we have a special Facebook group page and you can communicate with the teacher there if you have questions! We also have the LIVE lesson sometimes and you can talk with the teacher directly.
Q: What if I am not available at those times?
A: No problem! You can still take the course. Instead of joining the live lesson, you can watch recordings of the lecture at a later time. We have a limited facebook group so you can also ask questions on the class's page at any time! It is a very nice community and you can also download handout and homework pdf. Even if you don't have facebook we can send via email if you want.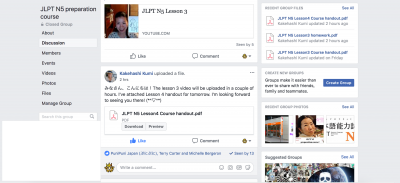 Q: Do I have to attend all the lessons? What if I miss one?
A: Don't worry! There is no penalty for not coming to the lesson, and if you miss a lesson, you will be able to see the recording of the class the next day.
Q: Can I ask questions in the class? Outside of class?
A: Yes! If there is time, you will be able to ask questions at the end of each lesson. However, there may not be time to answer all questions. If you have a question, you can post it on the class's page after the lesson and the teacher will answer your question.
Q: How many students will be taking this class?
A: We are not sure of the numbers yet, but the class will be lecture-style with questions asked either at the end of the lesson or in writing after the lesson has ended.
Q: How do I join the lesson?
A: Once you have signed up for the course, we will give you access to the class's page. On this page, we will share the link that will take you to the lesson. You don't have to download any software! You can join the lesson easily from your browser!
Q: When and where can I take the JLPT N5~N3 Test?
A: It depends on what country you live in. You can see the information for taking the JLPT in Japan at this link: http://info.jees-jlpt.jp/ and you can see the information for taking the JLPT in other countries from this link: http://www.jlpt.jp/e/application/overseas_list.html 

This is a really great opportunity to learn Japanese from a real Japanese teacher for a very reasonable price! We hope to get a lot of students to participate so that we can continue to offer more services like this in the future. Click the button below to pay for the course!


---
---